ELEMENTARY
Kindergarten – 5th Grade
Sundays
9:00 am and 11:00 am
Your kids will experience energetic worship, engaging Bible stories, small groups, super-fun games and crafts each week. They will learn how to make wise choices, trust God no matter what, and treat others the way that they want to be treated.
Upcoming Groups and Events
Pizza Party & Game Night for Heights 45
Wednesday, Oct 6 
6:30 pm – 8:00 pm in WC9
It's almost time for our awesome Heights 45 life group for 4th and 5th graders to start. We will be kicking off our fall quarter on October 6 with a pizza and game night! Your kiddos are welcome to bring a friend and their favorite board game to share.
We will supply the pizza. They will love it!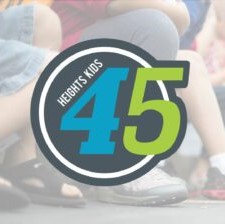 Heights Kids 45
Wednesdays Oct 6 – Nov 7
6:30 pm – 8:00 pm in WC9
This fall we will be diving into Orange's Know God devotional, which will help your 4th and 5th graders to begin a journey to know God more. Together with friends and trusted leaders, your kiddos will learn 4 simple tools that they can use every day to know God more, and they will have a lot of fun while they do it. We hope that your 4th and 5th graders will join us!
Cost: $15 donation for devotional
Our Heights Kids team members love kids and they go through an extensive application, interview, background check and training process. Volunteers and staff wear a lanyard to identify them as part of our team. Safety is a priority for us, which is why we require 2 team members in each classroom at all times.